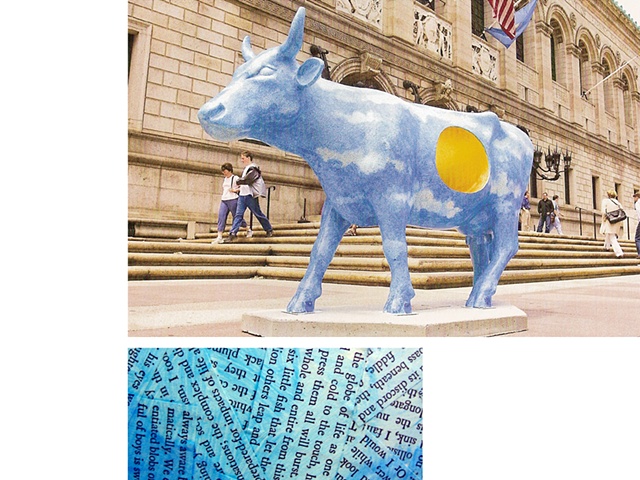 The Light Within (for Virginia Woolf)
fiberglass, paper, gold leaf
96" x 54" x 36" / 245 cm x 140 cm x 90 cm
2006
The Light Within (for Virginia Woolf)
fiberglass, paper, gold leaf - 54" x 96" x 36"
CowParade / The Jimmy Fund, Boston, MA
CowParade is a combination fund-raiser and public art event, with successful showings in dozens of cities in the United States and abroad. The organization provides blank, life-sized, fiberglass cow forms to be altered by local artists. The sculptures are then installed in public places throughout the city, before being sold at auction to benefit a local charity. The Light Within was installed at the entrance to the Boston Public Library.
The Light Within is a celebration of the talented, troubled, and often misunderstood 20th century author VIrginia Woolf. What from a distance reads as a simple cloudscape is in fact a dense texture of text, a collage of pages from her novel The Waves. Likewise the "absence" at the center reveals an interior clad in luminous, self-reflecting gold leaf. As with Woolf's writing, a closer inspection yields brightness and complexity.
We think of Woolf as a tragic and melancholy figure who struggled with her own inner darkness. Yet her writing has a light touch that reveals an underlying core of passion and delight. The Waves, in particular, has a radiant, effervescent style rich in keen observations and deft turns of phrase. At the same time, the non-narrative structure of the novel embodies the disorientating, sometimes painful split between inner experience and outer reality.